QR Code Menus for Restaurants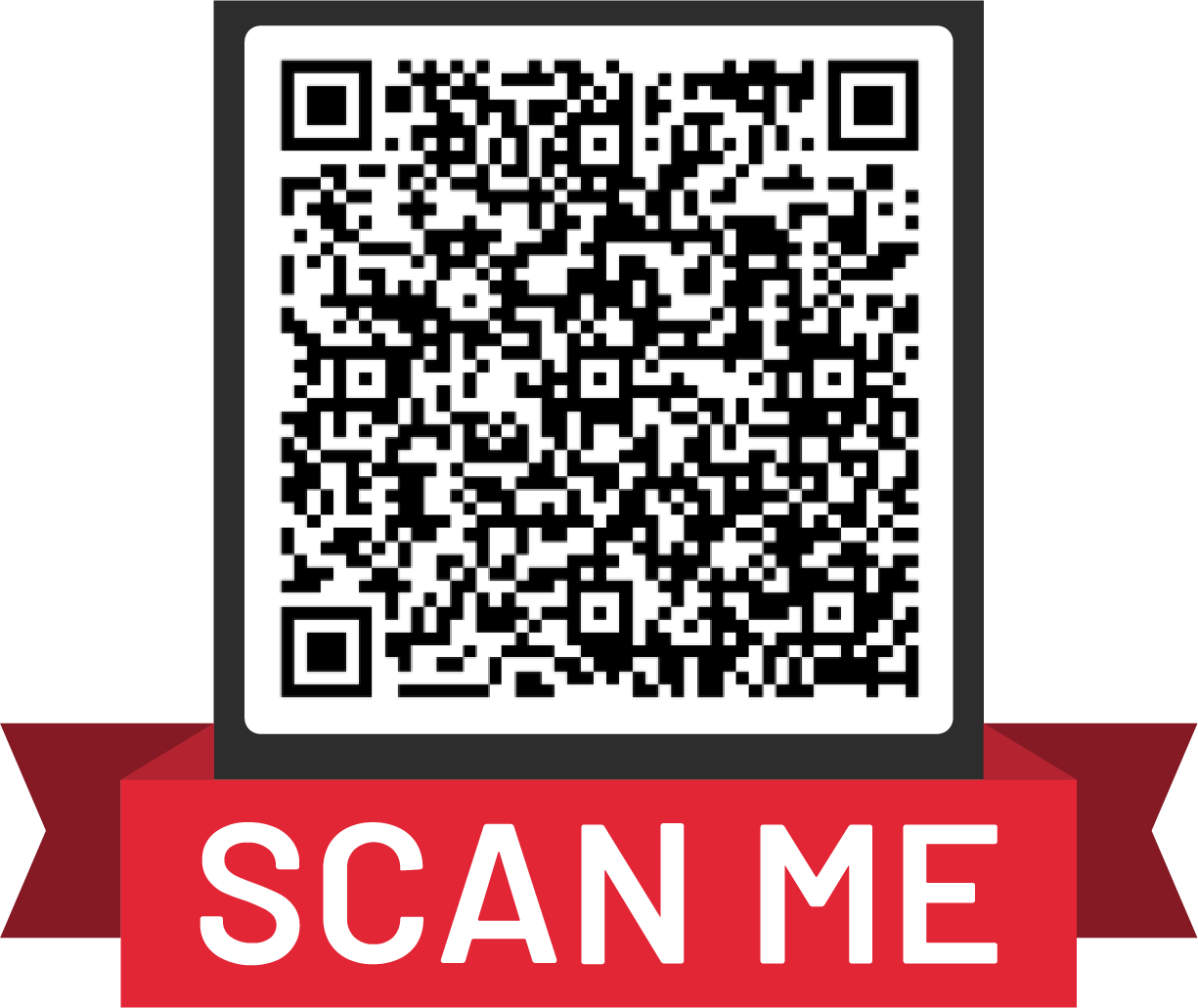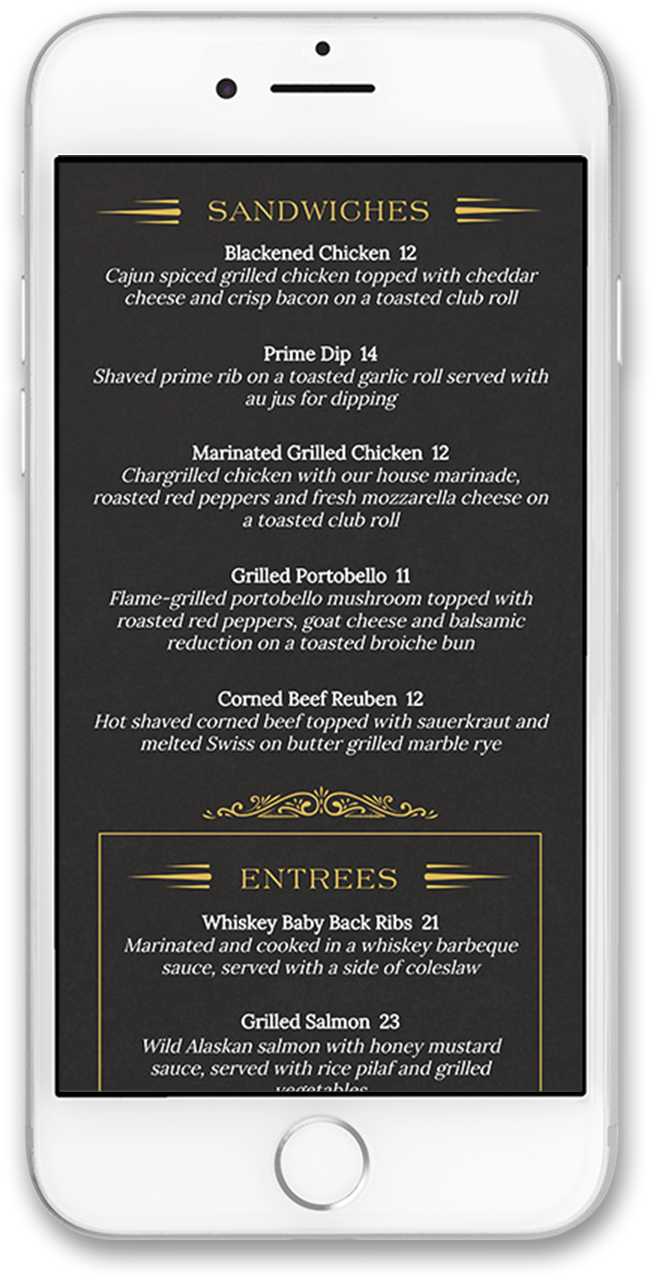 QR Code Usage Takes Off
In response to COVID, restaurants have gone big with QR codes, those dotted squares now featured everywhere on menus, flyers, stickers, sidewalk signs and more. They're popular not only for providing a touch-free experience, but also because they're easy to use and open up a new world of benefits.
Give it a try! Just point your phone camera at the code.
Ready to build? Start a QR code here.
How Customers Use QR Codes
Today's smartphones have built-in QR Code readers with the camera, so there's no special app to install. This creates very simple steps for customers:
Point a phone camera at a QR code and wait for just a few seconds.
A notification will pop up that, when clicked, will send you to a web page.
These web pages can be anything - online menus, social media, ordering forms, and much more.
Enjoy the menu on your phone, then enjoy your meal!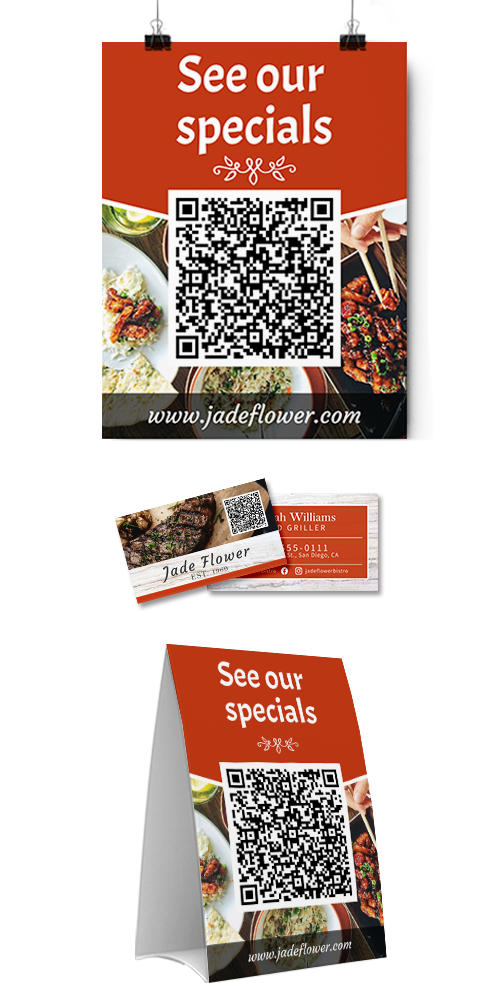 How Restaurants Use Menu QR Codes
QR Codes are a missing link between traditional and digital marketing. They extend the value of any printed piece by taking customers to the web. Most restaurants start with a simple link to a digital menu:
Decide where you want customers to go online. Typically, to a contactless menu.
Generate a QR code. Often, you can do this right in your design program.
Place the code into a piece to be printed as you would any other graphic.
Repeat for as many different marketing pieces as you please. There is no technical limit.
Even put a code linking to your digital menu inside your printed menu. Or a code that links to a daily specials page.
Post your marketing pieces in your windows, doorways, on tabletops, and curbside. Your customers will take advantage of the codes!
Create a Landing Page that can hold multiple links, so your QR Code adds more value.
Best Ways to Display QR Codes
Once you upload your menu and create a QR code, you'll need to post it around your restaurant. Here are some great ways to put your QR code where your customers can easily see and scan it:
Browse All Designs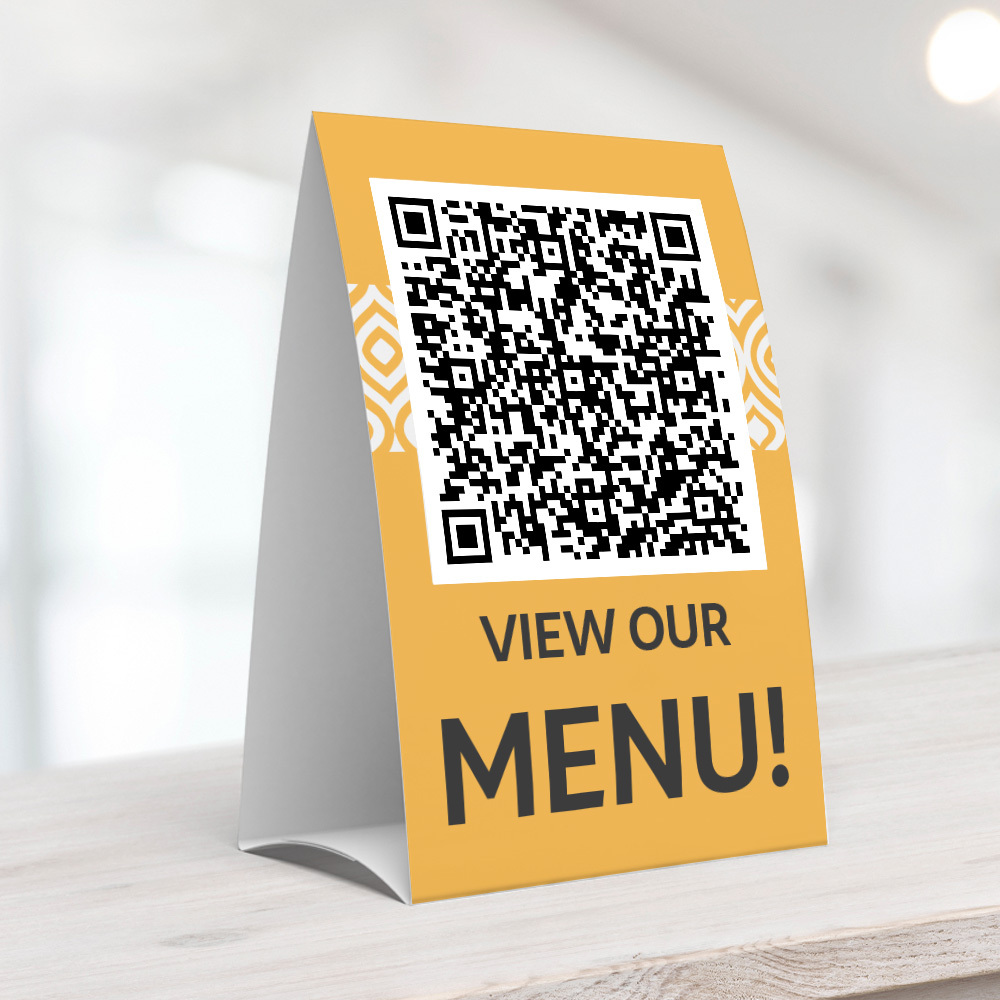 Table Tents
Put the QR code right in front of your customers in an unobtrusive manner with free-standing table tents.
The Power of MustHaveMenus' Pro QR Codes
Our Pro QR Codes give restaurants an endless number of ways to serve customers through their phones. The codes can be used with each of our 10,000 design templates, including menus, table signs, posters, flyers, business cards and much more.
Our Pro QR Code tools are designed to be easily managed by non-technical users. Restaurant managers can create and manage unlimited QR codes, add a code with one click to any design, and even swap links on a single code to avoid reprinting marketing materials. MustHaveMenus QR Codes provide the best way to connect online and traditional marketing.
Key Benefits
Add a Code to anything. Print a QR code on anything from menus to marketing materials like flyers, table tents, and sandwich boards.
Change links. At any time, link your QR code to a different menu or web page without having to reprint the code.
Easy menu updates. Quickly change menu items, prices, and descriptions that appear on your digital menu whenever you want.
Ongoing convenience. Easily manage all your codes within our design tool so you can quickly use them in new marketing efforts.
See all the Contactless options available with Pro!
QR Code Industry Trends
Beyond linking to marketing materials, there are efforts within the restaurant industry to link QR Codes even deeper into your digital sales operations. These codes may come from your website provider, CRM software, or even POS provider. These efforts leverage even bigger consumer trends like the movement to online ordering and cashless payments. Keep an eye out for these trends:
Online Ordering: Drop customers right into an online ordering form on your website. There they can browse your offerings, make selections, and place their orders without interacting with waitstaff. Due to COVID social distancing requirements, this idea may catch on even for some dine-in locations.
Cashless Payments: Cash seems to be disappearing from the modern economy and consumers are trusting apps like Square's CashApp, PayPal, Venmo, and ApplePay. Some restaurant software companies are providing integrations into all of these, so that payments can be made either by scanning a QR Code on a receipt, or upfront when placing the original order.
Relationship Building: Using QR codes to conduct more business online also creates a digital trail of marketing data. Some restaurant CRM companies will help you build complete profiles of your customers so you can deliver more email promotions, digital coupons, and more.
QR codes languished as a technology for many years because they were ugly and inconvenient. Now that COVID has accelerated their adoption, the potential use cases to benefit restaurants continues to expand.
How to create a contactless menu with
MustHaveMenus
IN 4 EASY STEPS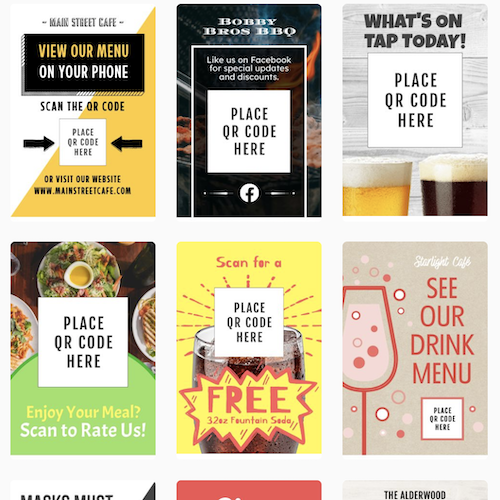 1. Choose a template to display the QR code. Many of them already have a suggested spot to place your QR code.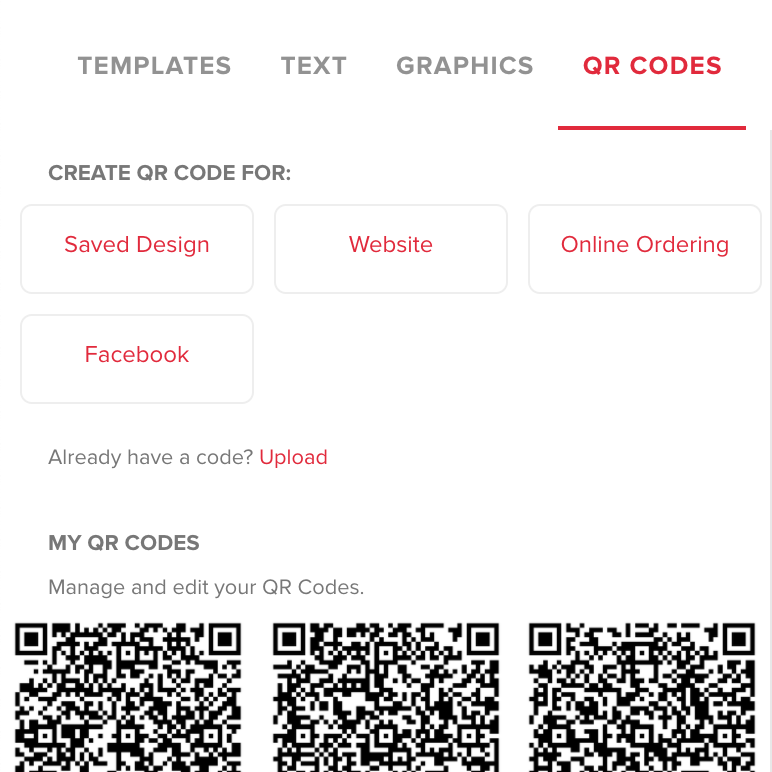 2. In the QR Codes tab, select the Saved Design option.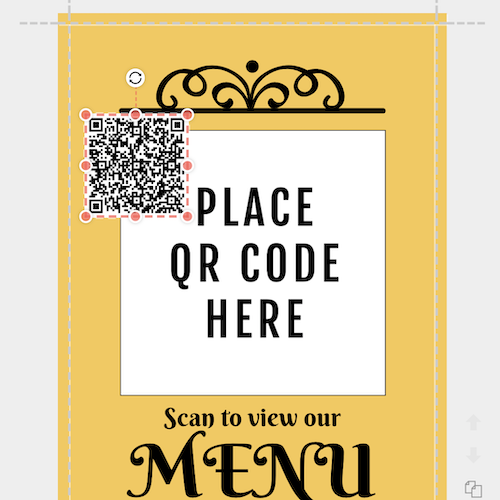 3. Once you select the design you'd like your QR code to link to, place the QR code graphic wherever you like on your design.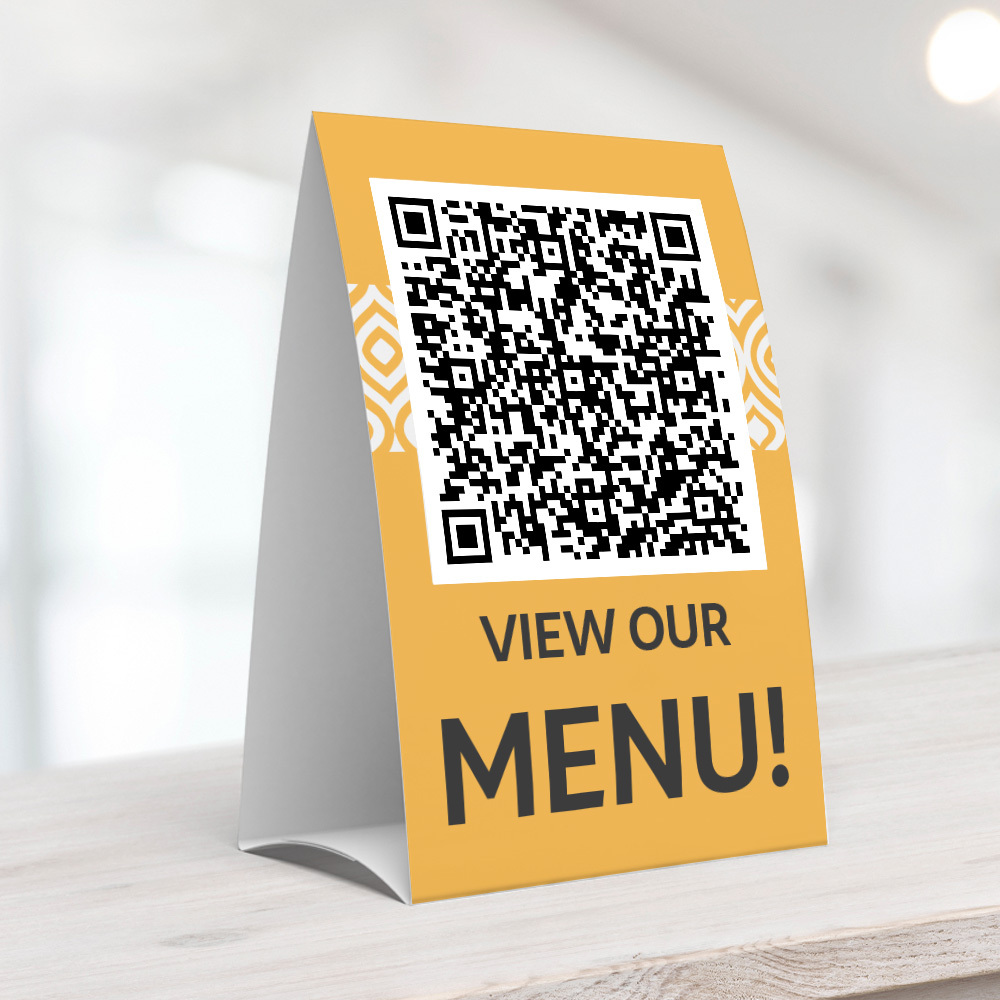 4. Then simply order your prints or download a PDF, and you'll have a QR code that's ready to be scanned.
Browse designs to get started