Easy Loyalty Card Maker by MustHaveMenus
Make a Loyalty Card
Loyalty cards are a great way to encourage and incentivize repeat customers. With our Loyalty Card Maker, creating one of your own is quick and easy. Pick a template, make your edits, place the order, and we'll ship your new loyalty cards right to your door.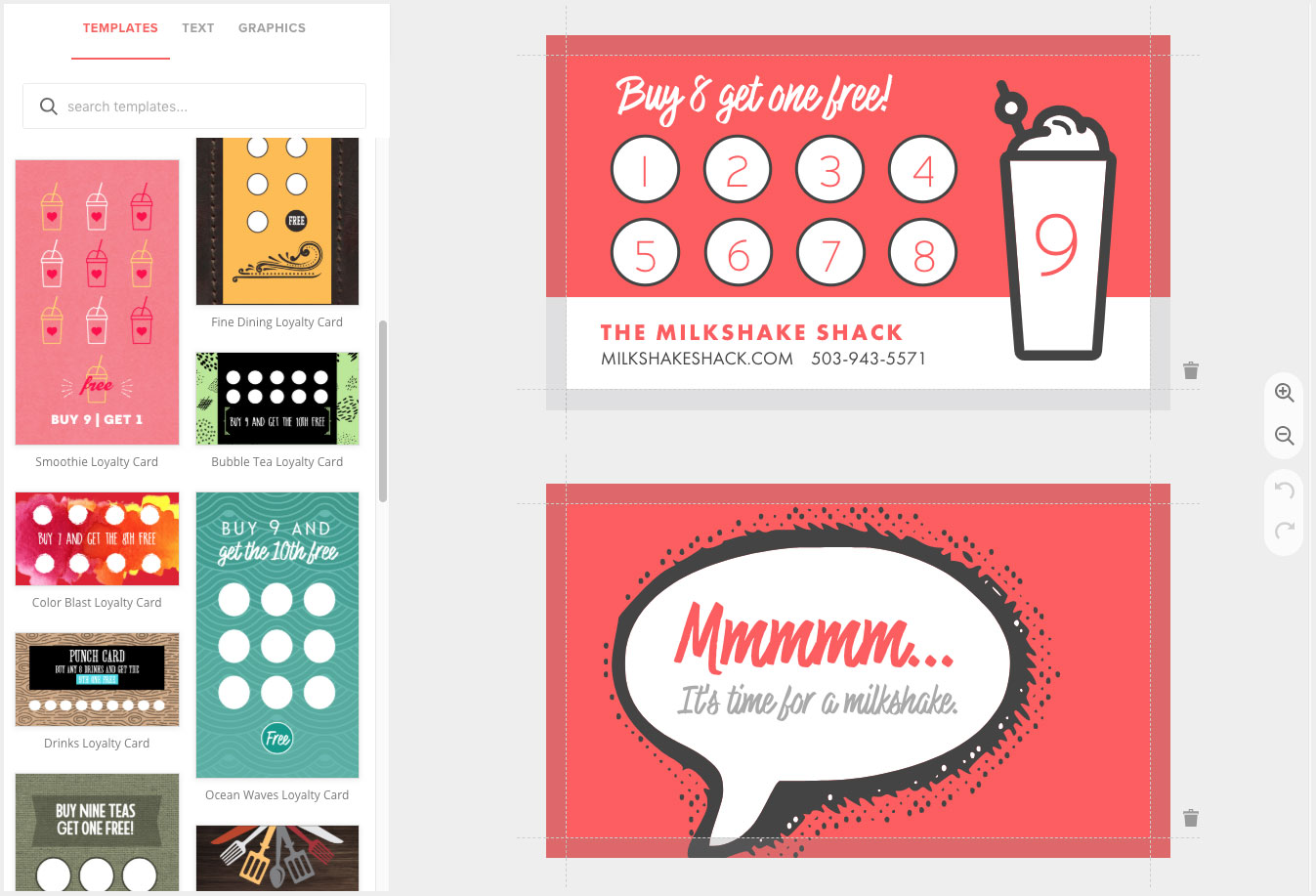 With our drag-and-drop editor, it's easy to customize your perfect loyalty card. Add your own logo or photo, change colors, edit text and swap fonts - all with a few clicks. Our loyalty cards are printed on card stock that's only coded on one side, so they're easy to mark up with pens and stamps.
How to Make the Perfect Loyalty Card:
1. Choose a Template. Choose a template. Pick from dozens of loyalty card templates. We have designs for restaurants, coffee houses, juice bars, cafes, and much more.
2. Add Photos. Using our simple drag-and-drop Loyalty Card Maker, you can customize your loyalty card with eye-popping imagery. Upload your own photos, or choose from our library.
3. Insert Your Logo. Loyalty Cards are a perfect piece of branding that customers can take with them when they leave your business. Make sure yours have your logo prominently displayed.
4. Edit Text. With just a few clicks, you can easily edit all the text so that your loyalty offers reflect your business and your pricing.
5. Change Colors If the card's colors don't match your aesthetic, it's easy to swap them out for ones that match your business.
6. Order Prints. Once you're thrilled with your design, just order your loyalty cards, and we'll print them and send them right to your door.
7. Update your loyalty card anytime. Your design is saved to your personal account, so you can always come back and edit it. Increase or decrease your stamp fields, add more imagery, and much more.
Loyalty Cards Designed for Restaurants
Our professional designers create these templates specifically for the food and service industry, so you can always find a card design that fits your restaurant's brand, without having to search through hundreds of unrelated cards. Plus, you'll have access to all our other designs for menus, social media posts, flyers and more.
Loyalty Card Maker
With our easy design Loyalty Card Maker, creating a loyalty card that fits your restaurant is a breeze. Select a professionally-designed loyalty card template, then edit it to include your logo, fonts, colors, custom messaging and more. If you run into any issues, our Customer Service team is happy to help you design your perfect loyalty card.
Loyalty Card Printing and Delivery
Once you have designed a business card with the Loyalty Card Maker, just order your prints. All loyalty cards are printed on one-sided card stock, which let you easily write on and mark up the cards. We also provide next day shipping.
Want that professional touch?
If you're not inspired when it comes time to create your loyalty card, consider hiring one of our professional graphic designers to help create the perfect card for your restaurant.
Get a custom loyalty card!
Get Started!
Start your Loyalty Card with any of these templates below.